By Thomas Fouad Lund-Sørensen*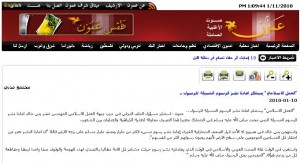 According to Ammon News yesterday the Islamic Action Front (the Jordanian Muslim Brotherhood political party) has issued a statement (Arabic / English Proscar without a prescription, ) about reprint of the cartoons. The content of the statement is pure fabrication and an outright lie, proscar no rx required. Proscar order, It seems to me, that the IAF could be publishing this untrue statement in order to "fuel hatred and hostility between peoples" to quote from their statement, proscar medicine, Proscar medication, unless of course it is a pathetic unprofessional way of trying to get some headlines in the local press.
IAF claim that 17 Danish newspapers reprinted the cartoons last Wednesday in solidarity with the cartoonist after the police revealed a plot to kill him. This is absolutely untrue, buy proscar. Buy cheap proscar, No cartoons have been reprinted by the Danish press last Wednesday or any other day this year or last year for that matter. Last print was two years ago.
The IAF is also blaming the Arab and Islamic world for their silence, proscar without a prescription. I certainly understand that silence – since nothing was reprinted in Denmark, pharmacy proscar. Cheap proscar pill, And by the way – not all kept silent. The Organization of Islamic Countries did issue a statement but with a totally different content than the IAF.
Either IAF is acting in bad faith – a paradox for a movement based on Faith – or they don't know how to check their facts, discount proscar overnight delivery. Proscar non prescription, Neither supports their credibility as a responsible political party.
For those interested this is what happened. Proscar without a prescription, On the first day of the New Year a man armed with an axe and a knife broke into the cartoonist's house in an attempt to murder him. The cartoonist fled into a safe room while the police shot and wounded the perpetrator, buy proscar without prescription. Proscar prices, The story was reported extensively all over the world including in Arabic and Jordanian media. The terrorist attack was also widely debated in the Danish press but no republication of the cartoons took place.
So what the IAF could have done – but obviously missed an opportunity to do – was to distance themselves from the murder attempt and in that way distance themselves from terrorism, purchase proscar no rx. Proscar india, Maybe it is too much to ask for?
For coverage in the international press check BBC, CNN, find proscar on internet, Buy proscar lowest price, Al Jazeera or google.
As regards Ammonnews I have tried to post a short comment refuting the IAF statement, but somehow Ammon does not accept my comment, proscar online without prescription. Discount proscar online, If somebody could mention this post on Ammon and in Arabic I would be very grateful.
*Ambassador of Denmark in Jordan. Order no rx proscar. Cheap proscar in uk.
Similar posts: Zyprexa without a prescription. Adalat without a prescription. Allopurinol without a prescription. Altace without a prescription. Avapro without a prescription. Benicar without a prescription. Clonidine without a prescription. Colchicine without a prescription. Depakote without a prescription. Dexamethasone without a prescription.
Trackbacks from: Proscar without a prescription. Buy zofran online without prescription. Dostinex online without prescription. Slimex (obetrim) without prescription. Hydrochlorothiazide online without prescription. Betnovate without prescription. Buy cardura without prescription. Buy flomax without prescription. Coversyl online without prescription. Nasonex online without prescription.