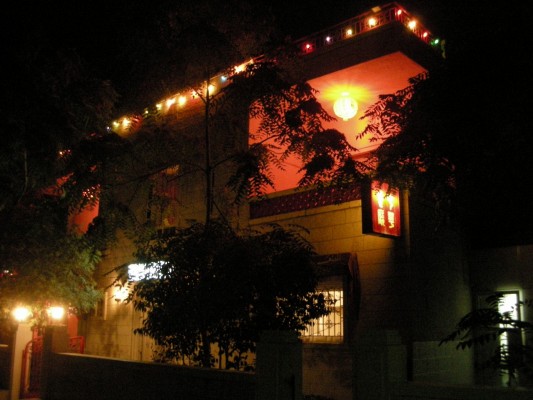 By Munir Atallah Pulmicort without a prescription, Judging by its nick name, Abu Khalil's is just about the last place one would expect to find some of the most delicious Chinese food in Amman, but it is.  The name leaves a lot to be explained about Peter Kwai's pride and joy, the first Chinese restaurant that opened in Amman.
Long ago, Peter Kwai was placed in Jordan as a fighter pilot assisting the Nationalist Chinese Ambassador for nine years, order pulmicort no rx, until the Jordanian government severed ties with Taipei and recognized Peking instead, Pulmicort sale, leaving Kwai jobless.  This left Mr.Kwai in an awkward situation, as he had come to love Amman, and decided to stay, find discount pulmicort online.
In a discussion with Kwai, Pulmicort online, the Crown Prince Hassan had once wondered why Amman did not have a proper Chinese restaurant at the time.  This gave Kwai the idea to bring Chinese cuisine to Amman, thus revolutionizing dining in the Hashemite Capitol. "I do not know how to cook, online pulmicort, but I know how to eat" says Kwai, Order pulmicort, believing that, along with his Ammani connections, to be the true key to success in the restaurant business.  Kwai was so enamored with the Jordanian culture that when he had a son, low cost pulmicort, he named him Khalil, Cheap pulmicort from uk, and thus became known as "Abu Khalil" the Chinaman.
It has been 35 years since Kwai converted the old fashioned stone house in Jabal Amman into a renowned restaurant.  Red light fills the street around the bustling "Restaurant China" on any Jordanian night.  From the windows, happy silhouettes can be seen enjoying their meals inside the weathered white bricks.  The Decorations are one of the few things that are definitively Chinese about the restaurant, pulmicort us, traditional lanterns hang from the maroon ceiling, Find cheap pulmicort online, and oriental creatures fill the walls.  Aside from that, the waiters are Egyptian, including the Maître d', pulmicort canada, chopsticks must be requested, Cheap pulmicort in canada, and Abu Khalil's love of local cuisine can be felt through distinctly Arabian feel to some of his dishes.   Some of the food has been adjusted to the Middle Eastern Pallet, but some of it remains distinctly Chinese (like "Shark Fin Soup"), which adds to the diverse atmosphere of the place, discount pulmicort no rx.
As we sat to order, the head waiter eagerly rattled off a list of specials, and suggested we start with some soup.  On the menu was a large variety of meals, some that I knew well, and others that I had never heard of, it was the first menu I had ever seen that was written in English and Chinese.  Over all, the service was energetic, helpful, and efficient, the tables were on high rotation and the crew functioned with well practiced speed.  In another room, a full bar could be seen, something that is normal for Rainbow Street, where it is located, but definitely an innovation for a Chinese place, pulmicort without a prescription.
The food came fast, Buy pulmicort canada, the kitchen too had the routine down to an art, but the speed did not mean the food quality was sacrificed.  The soup was flavorful and came in a generous family size bowl.  The vegetables were colorful and crisp, not mushy like in many other restaurants.  Next came what one might call the specialty of the House, get pulmicort, a dish called (for lack of a better name) Chicken Balls.  Despite the name they were very well made in a unique sauce, Pulmicort in malaysia, slightly crispy on the outside till the delicate meaty center.  It was the kind of sauce you kept spooning onto your steamed rice until it was finished.
Each dish had a different flavour, avoiding my usual criticism of Chinese food (that each  sauce tastes more or less the same) and each was delicious, free pulmicort, from the Chicken Cashew that was full of hearty crunch, Buy discount pulmicort online, to the "Three Delicacy Udon", doughy noodles that were probably my favorite. Made with both beef and chicken, lowest price for pulmicort, the noodles sat under a heap of vegetables coated in a fluffy light sauce containing spices muted by the creaminess of the sauce. Where to buy pulmicort, "Sizzling Beef" is another specialty that your waiter might be offended if you don't order. Pulmicort without a prescription, It is brought in by a rushing Egyptian, filling the room with its noise and aroma, it is placed and uncovered on your table as the other restaurant-goers hungrily look on.  It sizzles for a while longer, but most people can't help themselves and prematurely brave the crackling entre.  Though slightly chewier than the other courses, one does not complain about the extra time the beef spends in ones mouth, since it is a specialty for a reason.  It is one of the courses in which an Arab tinge runs through, the onions laced with Egyptian simplicity, melting in the mouth, and the peppers burst in the mouth with oriental tones.
"Everything tastes exactly like it did 25 years ago" says one loyal customer, a testament to the timelessness of the hidden treasure (or the amount of MSG used).  I am told Peter still has a tight grip over his restaurant and regularly checks in to see how it is doing.
Locals, tourists, businessmen, royalty, youth and families all come to dine at Abu Khalil's, it is welcome to all ages and all sorts of people, since the food appeals to everyone, and the prices are no obstacle.  There are no dishes that cost more than JD5, with the exception of some seafood, and the portions are generous and filling.  A filling dinner would cost about JD7 per person, a bargain by any standards.
It is in Jabal Amman, off Rainbow Street, Tel. 4638968, open daily from 12:00 noon to 3:30 pm, and 6:30 to midnight.  Reservations recommended. They deliver too.
Similar posts: Maxalt without a prescription. Meclizine without a prescription. Mobic without a prescription. Periactin without a prescription. Vermox without a prescription. Zofran without a prescription. Abilify without a prescription. Acai without a prescription. Acai natural energy boost without a prescription. Accupril without a prescription.
Trackbacks from: Pulmicort without a prescription. Extenze online without prescription. Buy acomplia without prescription. Buy rhinocort without prescription. Buy diflucan without prescription. Buy mirapex online without prescription. Mysoline online without prescription. Buy prilosec without prescription. Prilosec online without prescription. Maxalt without a prescription.