Kamagra oral jelly without prescription, [caption id="attachment_10515" align="aligncenter" width="570" caption="Young man at a protest on March 4, 2011. (7iber archives)"]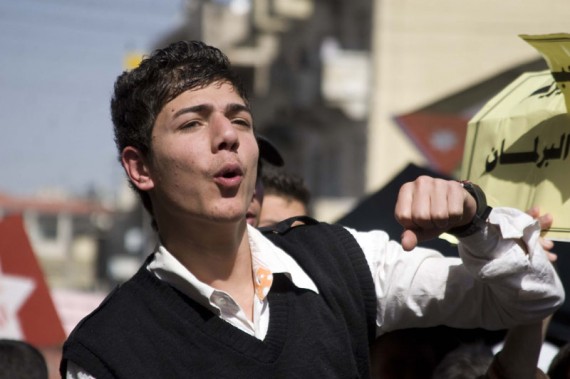 [/caption]
By Noor H.
A space to discuss reform
As a member of a Jordanian youth organization called "Leaders of Tomorrow", I have been leery of participating in the Jordan Youth Forum (Multaqa Al Shabab 2011) conference on June 14-15. There were many floating questions around who organized this conference, why was it organized, kamagra oral jelly pharmacy online, who covered its costs, who is attending and who is not. Some might think that these details are not as important as the fact that young Jordanians need to discuss issues that determine the fate of their country's well-being. Cheapest kamagra oral jelly price, I would say that these details matter as they will affect the conference's outcomes and recommendations. Some also think that the recommendations will collect a heap of dust somewhere, kamagra oral jelly without prescription. I decided not to read the press release and participate in it to see for myself. Regardless of the content of these youth groups, I still have some hope that one of the conference's outcomes might lead to the revival of political and non-political parties amongst youth in Jordan which is a constructive development given that political parties have been disabled for decades.
The forum was held at the King Hussein Bin Talal Convention Center in the Dead Sea, kamagra oral jelly buy drug. Participants were transported in from various Jordanian governorates. Kamagra oral jelly without prescription, This conference was scheduled to be held in late May and was delayed to mid-June for unknown reasons. The conference's two-day agenda was posted in Arabic on its website. The agenda covered very general topics that are important to Jordanians such as unemployment, Kamagra oral jelly medication, innovation and creativity.  Participants were given the titles of the sessions, which were very general and broad. I wasn't sure how participants could come prepared to contribute successfully to such a conference.
Thab7toona, a campaign defending student rights, cheap kamagra oral jelly from usa, initially boycotted the conference as issued in a press release stating that this conference will not yield any results. After receiving a positive invitation to participate despite this press release, five of its members decided to attend but >were rejected, kamagra oral jelly without prescription. Moreover, I did not see anyone from Shabab March 24, Kamagra oral jelly without a prescription, a group that protested near the Ministry of Interior on the 24th of March calling for less intervention by the intelligence agency in student affairs on campus. I think their voice was certainly missing in this conference and their perspective would have added a different dimension to the discussion on reform.
With around 1,300 participants, you could imagine how the women's bathroom was bustling like a busy hair salon, buy kamagra oral jelly from india. You could hear plenty of giggling when some were applying thick make up, plumping up their lips and spraying lots of perfume.  I remembered being in high school when students were backstage preparing to perform. Kamagra oral jelly without prescription, Likewise, the entire audience was prepared to perform in their seats although the lights were directed on the stage.
King Abdallah II's Speech
His Majesty's speech called for spreading a culture of volunteerism. Find discount kamagra oral jelly online, Volunteerism increases participation in and the understanding of civil society. He also asked the youth to strongly think about forming political or non-political parties and to expect that the entire process will take at least two to three years. He also emphasized how youth's opinions and participation in civil society is important to him and to Jordan.
One of the unstated purposes of his speech was for a young group to create a political or non-political party that supports the current regime, kamagra oral jelly without prescription. Perhaps the King would have wanted groups like Thab7toona and Shabab March 24 to form a political party as well since everyone was told that participants are to speak freely, but instead, kamagra oral jelly overnight delivery, the usual All Jordan Youth Commission (AJYC) had the biggest representation in this conference.
Citizenship and Identity
Each session's span was two hours. The first session I attended was about citizenship and identity. Kamagra oral jelly online review, Aside from the fact that it started fifteen minutes late, the facilitator gave a 40 minute lecture about his ideas. Kamagra oral jelly without prescription, Although some of what he said was insightful, it did not grant everyone in the room enough time to speak and share his/her ideas regarding this issue. How democratic a facilitator was affected the recommendations or outcomes of the session.  We were asked to pay attention to what the Jordanian constitution actually says and what is really being implemented on the ground. Some of the ideas I have taken note of were that Jordan should have a constitutional court that is related to the judicial system, order discount kamagra oral jelly. The issue of granting citizenship to the children of a Jordanian woman married to a non-Jordanian was not resolved. I also realized how when trying to look for solutions, people dump responsibilities from one sector to another, kamagra oral jelly without prescription. In this session in particular, someone recommended that this entire issue be handled by non-governmental agencies. Buy kamagra oral jelly canada, When the private sector cannot deal with an issue, nor can the government, it is sometimes dumped on the non-profit, non-governmental organizations, most of which are facing major challenges hindering their work these days, cheap kamagra oral jelly pharmacy.
Moreover, international institutions such as UNRWA became part of the Palestinian identity. I am afraid and ashamed to say that USAID has become part of the Jordanian identity only because this creates a culture of dependency on foreign aid and reduces our self-determination as Jordanians.
Corruption Kamagra oral jelly without prescription, I believe this was a popular session in general that people felt obliged to attend whether in the morning or the evening. Kamagra oral jelly sale, One of the things I asked about was whether or not there was a law that protected whistle-blowers who submit a corruption claim. Apparently there aren't any and this was submitted as a recommendation.
Others raised the issue of accountability and how corruption is not only something that the leader of the organization should be held against but also other mid-level managers and employees. The popular solution that people requested was an increase in monitoring. I argue that this will not work without enough transparency, kamagra oral jelly without prescription. I think our society needs to embrace this concept as a positive value, buying kamagra oral jelly.
Higher Education
I earned my Bachelor's degree from an American public institution. I was interested in hearing what the youth had to say here to identify any similarities or differences. I have a lot to say regarding this issue and I will include these thoughts in a separate post.
Poverty Alleviation Kamagra oral jelly without prescription, I consider poverty to be a social network and a lifestyle. Fda approved kamagra oral jelly, Someone else said that poverty is not always negative (I wish he could have elaborated some more). My understanding of a fairly healthy democracy is when the middle class constitutes the majority of the country's population. In Jordan, I think there is a strict division between the rich and poor and the middle class takes a small slice of the pie.
Some categorized the types of poverty and criticized our consumption behaviors, kamagra oral jelly in malaysia. I suggested that there should be more cooperation between the public and private sectors, kamagra oral jelly without prescription. I also think that CSR programs are used as cover-ups for the harm that our private firms do whether to the environment and other issues that they place ahead of the public good.
I suggested we look into the structure of our economic system. A professor that claimed to be an "expert" on poverty said that Jordan has an "excellent" economic system and that is includes some socialist elements. Kamagra oral jelly australia, I asked him what he meant by an excellent economic system and to what extent our system incorporates socialist elements. Kamagra oral jelly without prescription, He didn't know. I sensed that people in the session were not willing to question capitalism although some claimed to be very familiar with the ugly face of poverty.
Conference's Recommendations
The conference ended on a negative note with a group fighting over what the MC had said. Regardless of what has been said about a member of parliament, I would like to focus on the conference's outcomes or recommendations, kamagra oral jelly free delivery, one of which I was surprised to see, which is the request to bring back mandatory military service training for Jordanian youth. This kind of conference would have been a lot more successful if it had more diversity of youth groups and a better quality of conversation during the sessions. It felt like an All Jordan Youth retreat, kamagra oral jelly without prescription. Buy kamagra oral jelly from us, It should have been made clear at the opening ceremony how this conference will harness the opinion of 1300 participants. It is also unclear to me who will carry out the recommendations and how.
Conclusion
ملتقى الشباب 2011 لنتحاور من أجل الاردن
Some said that this conference was better than going out on the streets to protest. This demonstrates to me that our society is afraid of community organizing and considers "protests" as a means to deliver a message in particular a foreign and negative concept. Kamagra oral jelly without prescription, The general feeling was that community organizing is negative, and it is precisely this piece that our society lacks. The general governmental attitude is: organize the way we want you to organize. I have met some passionate young people who are concerned about the fate of their country and community, yet at the same time, I think of the way they censor their ideas and try to fit a certain mold to appear as if he or she will make a great fit for a leadership position down the road. I felt many are afraid of social change and want to keep things as they are to avoid sudden change. Not having a wide array of groups voice their opinion in the conference, I feel that this conference missed the healthy sign of democracy where diversity is encouraged. I do not regret attending as I think that Jordanians need to think about these issues. I think this is only a start of a conversation and perhaps will not lead to anything. Some power bodies in the country might take what they like out of it and claim that it was supported by this conference. With the current social movements in the region, Jordan wanted to make sure it is listening to its people and that is always a good start.
Similar posts: Tramadol online without prescription. Levitra online without prescription. Levitra jelly online without prescription. Soma online without prescription. Propecia online without prescription. Xenical online without prescription. Prozac online without prescription. Ultram online without prescription. Clomid online without prescription. Accutane online without prescription.
Trackbacks from: Kamagra oral jelly without prescription. Remeron online without prescription. Truvada without prescription. Buy valtrex without prescription. Neem online without prescription. Dostinex online without prescription. Invega online without prescription. Buy erythromycin without prescription. Buy nolvadex online without prescription. Spermamax without prescription.